Your RichLife Is Waiting!
Your RichLife Is Waiting For YOU!!

What if you could learn the secrets to living a healthy, wealthy, fulfilled life on purpose while creating a Rock Solid game plan for living and leaving a lasting Legacy, and being more joyful and satisfied than you ever believed was possible….

Beau wants to share the bestselling "RichLife – 10 Investments For True Wealth" book and help as many people as possible stop sleepwalking through life and wake up to the money, business, relationships, and life of their dreams…

This book is changing lives!! Will yours be next?
(be sure to go all the way to the bottom of the page to see who is showing off THEIR RichLife!)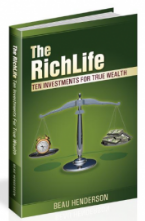 In The RichLife – 10 Investments For True Wealth you'll discover:
Wise Stewardship and creating favorable conditions for success.

How to master Your Money Map to be in the top 5%.

How to live your unique definition of a RichLife.

The connection between money and relationships.

How to quit repeating the same mistakes once and for all.

How to build a portfolio to ensure True Wealth.

Thieves that can take you out of the game and steal your RichLife.

The #1 Investment for you right now.

How to easily uncover your purpose.

The connection between money and health.

The one discipline that guarantees success.

How to increase your energy.

The importance of clarity.

Giving back and getting more.

How to invest in unique experiences

Attaining the priceless asset – Peace of Mind
Take a few minutes to listen to what Beau teaches in each chapter of this life-changing book!

Chapter 1 – Practice Wise Stewardship

Chapter 2 – Investment In Clarity

Chapter 3 – View Life As A School

Chapter 4 – Cultivate Meaningful Relationships

Chapter 5 – Create Unique Life Experiences On Purpose

Chapter 6 – Master Your Money Map

Chapter 7 – Choose Risk Transfer

Chapter 8 – Build Your RichLife Team

Chapter 9 – Protecting Your Primary Asset

Chapter 10 – Contribution

The Master Investment – Hard Easy

Can't Wait To See You Showing Off YOUR RichLife Too!!

Click HERE to get your copy TODAY!