Spend Local Win Cash Promotion and Rules
Spend Local Win Cash Promotion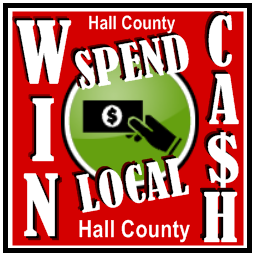 Spend Local Win Cash Rules:

1. Every entry makes contestants eligible for $100 Cash drawn.
The winner will be announced the last Saturday of the month live at 12pm EST on The RichLife Show on AM550 and FM102.9 WDUN.
2. Every $20 spent in Hall County GA for the current month will be counted as 1 entry
3. Entries are unlimited. The more $$$$ you spend in Hall County, the greater your odds of winning.
4. Receive DOUBLE ENTRIES for every $20 you spend with RelyLocal Hall County businesses who have made a commitment to encourage local spending and offering AMAZING discounts and deals.
You can see who is participating right here ==>> http://www.relylocal.com/hall-county-georgia/businesses
How to submit entries:
1. Receipts must be submitted by midnight on the last Friday of the month.
2. You must copy receipts that highlight Hall County GA location, date, and amount of purchase.

3. Send via email:
Email: ClientCare@richlifeadvisors.com

Fax: 678.707.7066

Postal Mail:

The RichLife Show


1102 Thompson Bridge Road, NE


Gainesville Georgia 30501