RichLife Experience Expert Gina Carr | Grow Your Tribe … Raise Your Klout!!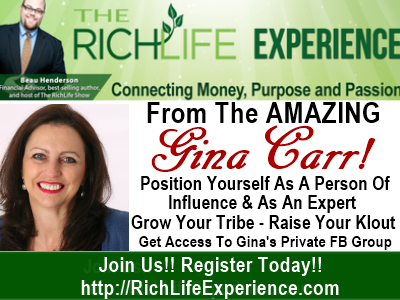 What an absolute honor it was to interview Gina Carr – The Tribe Builder for the RichLife Experience this past week!!  Gina is an Entrepreneur, Speaker and Marketing Consultant who works with CEOs and Thought Leaders to leverage social media marketing for publicity, profits and success.
Gina combines her street-smarts learned as a publisher and small business owner with her book-smarts learned at the Harvard Business School (MBA 1990) and Georgia Tech (BIE 1984) to help business owners turn great ideas into profitable money-making machines.She offers one-on-one consulting, group coaching and customized products and services.
Known around the world as The Tribe Builder, Gina helps passionate people build powerful tribes of raving fans for their business or non-profit.

For decades, Gina has been a voice for the voiceless – homeless pets.
The Perils Of Bright Shiny Object Syndrome and How To Avoid Them

Gina shared three very POWERFUL "lessons learned" during our conversation. Here are the highlights … (I'll tell you how to get access to the entire interview in just a little bit!)

Lesson 1 – Having a (ONE) good coach is incredibly important. One of the things I learned is not to follow too many different people. I signed up for way too many programs & courses. It was way more than I could absorb, much less implement. I totally fell prey to the bright shiny object syndrome. I was always looking for the hot new thing! My best advice for everyone … stick with one coach, listen to one voice … learn and master what you are being taught. Take immediate action. Measure your results and when everything is working well … then go on and find the next thing you need to learn and master to grow your business.
Lesson 2 – Don't become too dependent on just doing business solely online. I'm convinced that you need to have both a powerful presence online and a powerful presence off-line. It takes a while for people to get to know you, like you, and trust you. And, it takes even longer for that to happen online. I found that success happens more quickly when people leverage going to events and networking face to face with people rather than just trying to cultivate those relationships online.
Lesson 3 –  The power of focus. Focus ties in with the other two lessons I mentioned. Too many people get off track when when they don't focus correctly. They don't understand how to go from product to profitability. We need understand that we MUST ride just ONE horse!! You can't ride two horses at the same time. You have to ride that one horse all the way around the track so that you don't get stuck and give up too soon. It's a process and it's going to take some time to go through the whole thing. Just make the decision to stick with it until it's done. Otherwise you will get off track, become scattered and have to go back to the beginning all over again. Focus … focus … FOCUS!! No more being distracted by bright shiny objects!

To access the complete recording of this call and Gina's private Facebook Group which is focused on helping you Grow Your Tribe & Raise Your Klout … simply add your name and email address to the form below and you will get instant access to ALL of the RichLife Experience Experts and Resources!

We want to hear from you! Feel free to leave your comments, suggestions and questions below!!