Why Money Without Wisdom Won't Stick Around
Discovering the lost art of stewardship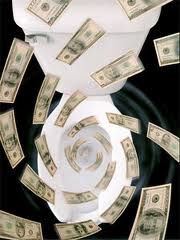 Cornelius Vanderbilt achieved the 7th largest fortune ever accumulated, yet only 48 years after his death, there was nothing left. A direct descendant died penniless, and every one of the famed Vanderbilt Fifth Avenue Mansions were torn down. The Vanderbilt generations are as well known for their failed marriages and drug addictions as they are for their accomplishments and talent for foolhardy spending. While most of us cannot relate to the problem of having millions to lose, it is essential to understand the mechanics of wise stewardship when building any kind of fortune of your own.
It is the rule rather than the exception that money will not stay in your life unless you have the wisdom to take care of it.
I admit the word stewardship sounds a bit old-fashioned, but the concept is not only timeless but wise. Closely related to responsibility, a life based on stewardship, or more specifically on taking responsibility, is one of the core principles necessary for building a RichLife. While Cornelius built himself a fortune of millions, he also gave millions away, establishing the Vanderbilt University in Nashville and living in a modest home that was easy to care for.
Stewardship is the behavior of an accountable person. Its root word is keeper, meaning one who cares for and manages people and things.
The careful management of that which has been given to us pertains to many facets of life, not just money. But changing the way we treat those assets, including the way we treat money, can result in a drastic and life changing shift.
It comes down to one important distinction: Do we view our talents and physical possessions as something we own and are entitled to? Or as special gifts that have been entrusted to our keeping?
This month we are going to talk about the application of wise stewardship with regard to each of these three asset classes:
· Human
· Physical
· Financial
Human assets are often the most easily overlooked, but give someone six months left to live, and they won't be out there seeking promotions or buying cars. They will be spending time with loved ones. In an interview with CBS news, Gloria Vanderbilt talked about how at age 10 she gained the family fortune, but lost what she really wanted – a relationship with her mother. Human assets include family relationships as well as friends, and the balancing act of our own time and energy.
Stuff is the way I like to think of our physical assets. This category includes our house, our cars, and our favorite chair, as well as anything that could fit in a suitcase.
And finally Money, what most of us think of first, but in the grand scheme of things really comes in last. We will talk about utilization verses accumulation, and how you can keep money – and the stuff you accumulate – in their proper place, as tools to serve you rather than the other way around.
With regards to all three asset classes, the application of wise stewardship is the quickest way to attract more of whatever you want in life.
Take good care of what you already have,
and more of it will come your way.
By the same token, the quickest way to loose what you have is through neglect and self-centered thinking. To apply this first principal of caring for what you already have, this week's call to action is simple and even kinda fun.
ACT Before you Think
Yes, you get to go against what your mother has always told you. When that paycheck arrives, act overjoyed! When your spouse arrives late, be glad to see them! Don't think about the unpaid bills, the short comings and the flaws. Look at the check in your hand, the person in front of you, and appreciate what or who they are.
Being grateful for the people and things in your life can radically turn things around. I challenge you to apply this to one area of your life today and watch what happens. Please, tell me about your experience. I'd love to hear it!
For more tips on how you can apply the principal of wise stewardship to your everyday life, get a copy of Beau's newest book, The RichLife, 10 Investments forTrue Wealth at http://www.richlifeadvisors.com/the-book/
Beau Henderson is a financial advisor, author, coach, radio personality, and CEO of RichLife Advisors. He has helped over 3,000 clients to not just improve their relationship with money, but to live the life of their dreams.