What Does God Have To Say About Money?
Surprising Revelations and A Real Actionable Game Plan That Can Have You
Living The RichLife God Wants You To Live Sooner Than You Think Possible !
Early in January I got a question from one of our listeners that was not a typical financial planning question. The question was "What Role Does God Play In Our Money?" Wow … what a HUGE question, don't you think? Turns out it was BIGGER than any other question we have ever tackled on the RichLife Show. Our subscriber and listener engagement was incredible.
From Bud Harris –  Great show today, Beau. If you believe in God and consider yourself a Christian, then God has authority over EVERYTHING in your life… greenbacks included.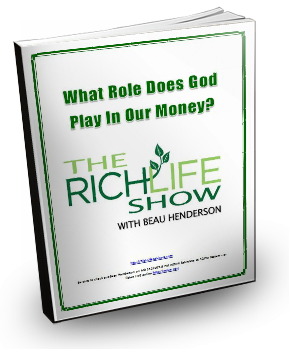 Free eBook by RichLife Advisor Beau Henderson
Here is a 20 page eBook transcript of our "What Role Does God Play In Our Money" Series, it's my gift to you- Just enter your first name and email and you'll get it IMMEDIATELY to download in your "In" box.