5 Money Conversations Every Couple Must Have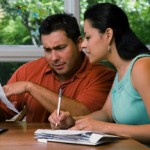 "It's not polite to talk about money!"
was the advice I always heard from my Grandmother. Did you hear it too? Ironically, not talking about money is what gets most people into trouble, especially when it comes to couples. When two people put their lives together, it's easy to spot problems involving extra stuff like furniture. It's not so easy to spot the money problems . . . until something goes wrong. Don't wait until that happens!
Money related issues are the #1 cause cited for divorce and break ups. Take the lead and take care of your relationships by having the following 5 Conversations with your partner about money.
Conversation #1 Where are we now?
We all have financial goals. Do you know what yours are? Are they the same as your partner? 
Is this where you check out of the financial conversation?
Start by looking at where you both are right now with regards to your finances.  The first step to financial success is the creation of two important financial documents: the income statement and balance sheet. These two statements will tell you your cashflow and net worth. 
Cashflow is King: Your income statement includes all sources of money, including the regular paycheck and any other income streams. It also shows what is going out – the expenses and bills you pay.  Remember it's all relative, the couple that has $500,000 coming in and $550,000 going out is not as rich as the couple with $60,000 coming in and $40,000 going out.  Couple 2 is at least in a position to save, invest, and plan for the future.
Your balance sheet has two columns and can be divided simply as What we Owe and What we Own and gives you a snapshot in time of where you stand financially.
Last of all comes the budget – the tool to get you from where you are to where you want to be.
Conversation #2  What I want, what you want, and what really works – without sparks having to fly.
Now that you have a clear picture of where you are, ask each other, where would you like to go? Talk about a 1 year, 3 year, and 10 year goals. Identify what can be done on a daily basis to move you closer towards the mutual goals. For example, if you'd both like to own a home in 5 years, one of you might focus on putting in over-time to increase income. The other might focus on cutting expenses and paying down debt.
Conversation #3 What Are Our Risks?
Your chances of success increase by the amount of risk you are able to transfer. Read that again, because it goes against what most of us are used to hearing. Many couples do not want to face risk because they fear that the problem may be harder to fix than to ignore. Take a look at the areas where you are vulnerable.
Are you protected against the 4 Thieves that can take you and your family out of the game?
–Premature Death
-Disability
-Law Suites
-Erosion factors such as inflation, taxes, unnecessary fees.
Identifying the weak areas is the first step towards improving them.
Conversation #4 Money Beliefs
It's not uncommon for couples to have very different views on money. Take a look at how each of you talk and think about finances.
Does money grow on trees? Is it the root of all evil? Does high risk equal high return? Do you care more about security and safety?
Since you're both talking about it, seek to understand where your partner is coming from. How they grew up thinking about money can help explain differences that may otherwise only show up when there is a problem. 
Conversation #5 – Final Wishes
This is not an easy subject to bring up, but it's unavoidable. If something were to happen to one of you today, would the other know what to do? Unnecessary stress can be avoided by simple things such as knowing how to retrieve important financial documents, learning the names and location of investment accounts and understanding what is in the will. Talking about your spouse's final wishes now will give you both peace of mind later. You both want to do right by each other.
Having money conversations doesn't have to be stressful or unpleasant!
If you have it now, before the problems show up, it can even be enjoyable and rewarding. Setting aside the time to ask and answer the hard questions now is an investment in the RichLife you are building together.   Put it in the calendar today and make it a date.
What is the first money conversation you need to have together?