Answer The BIG Question – Free Financial Coaching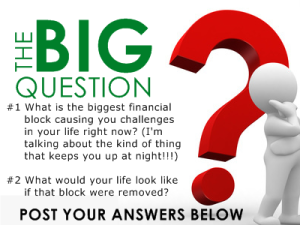 I'm feeling really grateful this week, and I thought why not start the new year off with a bang!
If one of your goals for 2013 is to master your money and life, then this is going to be your lucky day.  I've never done this before, so this should be fun!
I'm Giving Away 3 FREE 20 minute laser-coaching sessions
with me so that we can solve your BIG problem!!
Private clients pay over $1200 an hour for this one-on-one executive level of coaching with me.
Would you like to win one of these coaching sessions?
There are no strings attached and no obligations…
So here's how we'll play this game!
Step #1: Go to my Facebook Page and "Like Me" if you haven't already.  We have to be connected to play this game together.
https://www.facebook.com/RichL
ifeAdvisors
Step #2: Now that you have "Liked Me", you'll find that I posted two questions on my Facebook wall.  Answer them in the Facebook  comment box so my team and I can easily find them.
What is the biggest block causing you a challenge with your finances?

What would your life look like if that block were removed?
At 5pm ET/ 2pm PT ON FRIDAY my team and I will choose the THREE BEST answers.
I can't wait to read your replies and, even more so, I can't wait to speak to three new people who are ready, willing and able to live THEIR  definition of a Rich Life!
All right,  Let's Play!
https://www.facebook.com/RichL
ifeAdvisors
Thanks a million …
Much love and many blessings …
Beau
PS… What would your life look if money was not an obstacle to you living YOUR definition of a RichLife?
https://www.facebook.com/RichLifeAdvisors