| | |
| --- | --- |
| | "Over the years, I've read numerous articles and tried to read books on Financial Planning and Accounting. My book experiences up to this point were terrible. They were so boring, confusing and frustrating to read that I gave up and actually threw them away without finishing them. But this book was totally refreshing. It offered a new approach, was easy to read, and left me feeling positive, optimistic and quite good about myself and my future. The book as a whole depicts a well thought out approach to living one's life and achieving financial contentment. There are many examples and stories. I read it cover to cover and it was the first book of this type I actually completed. I highly recommend this book." Michael Butler |
Beau Henderson is on a mission to help as many people as possible stop sleepwalking through life and wake up to the money, business, relationships, and life of their dreams…
Do you have enough money? Are you taking care of your family?

Do you know what to do with the money you have? Are you rich?


The truth about money might surprise you. The answers to these questions will challenge you. Financial Advisor and Certified Success Coach Beau Henderson has a fresh new approach to wealth creation and investing. He will tell you things about money that no one else will – what it is, who it serves, and the effect it has on all areas of your life, including health, relationships, and business. It doesn't matter where you are with regards to your finances. You can make the 10 Investments and apply the one Master Principle outlined in this book to raise your financial IQ and get on track towards building a blueprint for true wealth that will leave a legacy for future generations. And … BEST of all … it is NOT as hard or as complicated as everyone else out there would like you to believe!

What if you too could learn the secrets to a RichLife,
create a Rock Solid game plan for living and leaving a Legacy,
and be more fulfilled than you ever believed was possible….

What kind of a difference would that make for you and your loved ones?
"The RichLife – 10 Investments For True Wealth" by Beau Henderson
Here's what you'll learn…

Wise Stewardship and creating favorable conditions for success.

How to master Your Money Map to be in the top 5%.




How to live your unique definition of a RichLife.

The connection between money and relationships.




How to quit repeating the same mistakes once and for all.

How to build a portfolio to ensure True Wealth.

Thieves that can take you out of the game and steal your RichLife.

The #1 Investment for you right now.




How to easily uncover your purpose.

The connection between money and health.




The one discipline that guarantees success.

How to increase your energy.

The importance of clarity.

Giving back and getting more.




How to invest in unique experiences.

Attaining the priceless asset – Peace of Mind.
Have you ever felt like there is supposed to be a whole lot more to life than you're experiencing? A life that is more than just going to work to pay the bills, a life with plenty of time to do the things you really want to do … actually have time to spend with the people that you love, a life that makes a difference? A life FILLED with PEACE of MIND?

You are not alone! After working with over 3,000 financial planning clients and coaching hundreds of financial advisors, Beau discovered that those are the kinds of questions that keep people up at night … even people with millions of dollars in the bank! A Rich Life truly is about more than having a bank account full of money! People today, more than ever, want to find meaning and purpose in their lives. They want to have happy, loving relationships. They want to enjoy outstanding physical health for as long as they live. They want to be able – mentally, physically, spiritually, financially able – to make a difference, to make a contribution to the world we live in.
People all over the world want to know how to create and live
satisfying, happy, healthy, wealthy, fulfilled lives …
That is what "The RichLife – 10 Investments For True Wealth"
teaches people how to do!

Are you ready to live The RichLife?

YOUR RichLife Is Waiting For You!

Praise for "The RichLife – 10 Investments For True Wealth"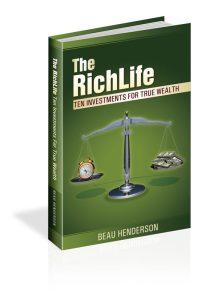 "Beau Henderson is really changing the game of wealth, making us look at what living a RichLife really means. His wealth building concepts are simple, effective, profound, easy to implement and customized to YOU, so you won't waste time & energy investing your resources in someone else's principles. If you want to live a truly fulfilled like, do yourself a favor and listen to Beau."
Sean Smith, CEO MVP Success Systems
"My words for you today are to pay attention to Beau Henderson. Go after more than just money. Chase the RichLife! Because you deserve it!"
Sandi Krakowski, CEO A Real Change Int'l, LLC
"Beau has the ability to take concepts that are either muddy or complex to some people and turn them into perfect clarity! We often use the phrase 'know, like and trust' as the target for our relationship with our clients. Beau has hit that target with a bulls eye, especially the hardest one to earn: trust."
Sharon O'Day
"Beau is every lay-person's dream! Finances are not something that people are typically experts in and because of who you are, you give us, the everyday ordinary person, someone to turn to for help and advice that we know is truly looking out for us. Such a rarity in the world of professionals! Thank you!"
Denny Hagel
"Over the years, I've read numerous articles and tried to read books on Financial Planning and Accounting. My book experiences up to this point were terrible. They were so boring, confusing and frustrating to read that I gave up and actually threw them away without finishing them. But this book was totally refreshing. It offered a new approach, was easy to read, and left me feeling positive, optimistic and quite good about myself and my future. The book as a whole depicts a well thought out approach to living one's life and achieving financial contentment. There are many examples and stories. I read it cover to cover and it was the first book of this type I actually completed. I highly recommend this book."
Richard Butler

"Beau has completely changed my view about money in general. Most teachers talk about the reasons you need to make this investment, or the reasons you should save money, etc – but there's a lack of depth in most cases. But what Beau does is help his students first understand what the value and meaning of money is in the first place. In other words, what's your own unique definition of living a "RichLife". And only then do financial strategies become relevant in the conversation. It's not a one-size-fits-all approach. It's a personalized process and really helps people clarify their perspective on money from the beginning. The richness of Beau's work is amazing. My favorite part is the chapter on "Life School", where he teaches us the different lessons we're here to learn and the phases we need to pass along the journey of life. As Beau said, it's not about becoming another miserable multi-millionaire. It's about living a fulfilled, rich life. Highly recommended"