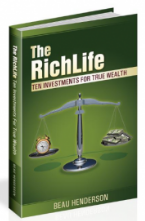 GAINESVILLE, GEORGIA
–
"The reason most people don't live The Rich Life is because they don't understand what money is or what true wealth is. Appreciating the difference will lead us to the life we truly desire,"
explains Beau Henderson, author of The RichLife: Ten Investments For True Wealth.
His highly rated Kindle ebook is available FREE now through midnight Saturday on
Amazon
via this link:
http://j.mp/ZnoHGj
Henderson has been quoted about financial matters by CNBC, USA Today, Market Watch, Yahoo Finance, The Boston Globe and the Wall Street Journal to name a few.
"I discovered a few years ago that my job as a money and success coach is more than advising on mutual funds or finding good stocks. I discover what makes my client passionate and then utilize their assets and resources to help them move toward living that life. Instead of focusing on money as the asset, I focus on people as the asset with money being merely one tool leading to the fulfilled life," says Henderson.
In The RichLife, Henderson tells readers things about money that no one else will – what it is, who it serves, and the effect money has on all areas of life including health, relationships and business.
Henderson is a master certified success coach, author, radio personality, a financial advisor, and CEO of RichLife Advisors
http:www.RichLifeAdvisors.com
He has helped more than 3,000 clients not only to discover their true relationship to money, but to live a healthy, wealthy, fulfilled life with purpose.
Henderson's 10 principles of investing in true wealth include:
Practicing Wise Stewardship

Finding Your Life Purpose

Viewing Life As A School

Cultivating Meaningful Relationships

Creating Unique Experiences

Making Your Money Map

Choosing Risk Transfer

Building Your RichLife Team

Protecting Your Primary Asset

Contributing to Others
Henderson has been described as a life coach with a skill mix between Suze Orman and Dr. Phil. Henderson is offering his Kindle ebook at no charge because, "I truly want to help people live a Rich Life. My book will be the starting point for many to begin that journey." The ebook is available free now through midnight Saturday on Amazon via this link:
http://j.mp/ZnoHGj . #free_ebooks #freekindlebooks #freebooks
#FREE #ebook #amreading #reading
You May Enjoy These Articles As Well...