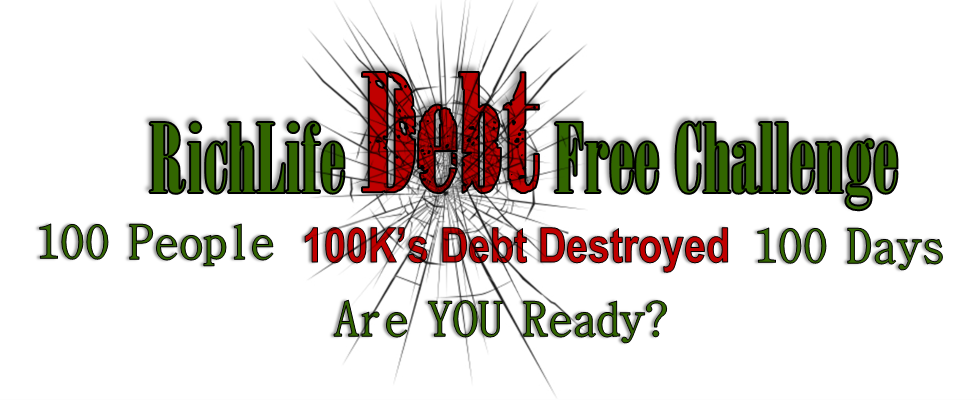 Henderson started his organization with one distinctive primary focus; to help his clients systematically create a get out of debt plan tailor made for their current financial situation. According to RichLife Advisors' corporate philosophy, debt freedom not only delivers financial empowerment, but also allows its clients the opportunity to live their personal definition of what the "rich life" means to them.
Henderson recently discussed what makes this challenge so unique:
"RichLife Advisors is so excited about our 100 Day Debt Free Challenge. Not only do participants learn important tips and receive all the tools they'll need to get debt free, but they'll also have the opportunity to earn cash and other prizes in the process. It's unlike any other get out of debt plan out there! And we're not the only ones excited about it – with over 50% enrollment filled, it's already creating an online stir," said Henderson (www.richlifeadvisors.com).
Henderson's Debt Free Challenge offers 100 registrants 100 days to effectively eliminate hundreds of thousands of dollars of accrued debt. During their "debt destruction" participants receive access to resources needed to begin the process, assigned tasks for focus and motivation as well as exclusive access to online boards and even Henderson himself throughout the process. As extra incentive to their "debt destroyers," RichLife Advisors are offering eligible participants the potential to win the following prizes:
• $1000 Cash and Creating Your RichLife VIP Day with Beau Henderson ($2,500 – Grand Prize)
• $500 Cash Prize (1 winner)
• $250 Cash Prize (1 winner)
• RichLife Foundations Online Master Class ($599 – 10 Winners)
• RichLife Quick Start Bonus Pack ($79 – 20 Winners)
• The RichLife – Ten Investments For True Wealth and 30 days in RichLife Foundations Online Master Class ($67.95 – 50 winners)
• Moving From a Life of Debt To Financial Freedom
Beyond the prize potential, Henderson also discussed another factor that should motivate individuals seeking to live a debt free, rich life; "In order to make our Debt Free Challenge easily accessible to everyone, there are NO fees or payments necessary to register. That's right, participation is 100% FREE for our 100 registrants! There's literally no excuse to not get started. But again, it's important to remember that we are already at 50% maximum capacity so interested parties should sign up as soon as possible!" Henderson said.

About : Financial advisor, debt expert, radio personality and author, RichLife CEO Beau Henderson has helped over 3,000 clients not just improve their relationship with money, but to live their unique version of the "rich life." From leading entrepreneurs to stay at home parents and everyone in between, Rich Life Advisors can help you create the get out of debt plan perfectly suited for your current financial situation. For more information on their "Debt Free Challenge" visit:
You May Enjoy These Articles As Well...