Great Relationships – A Daily RichLife Deposit That Pays BIG!
Doug and Dorothy Enjoying Their RichLife In Ireland!

Great Relationships – A Daily RichLife Deposit That Pays BIG!

The secret of investing in relationships
by Beau Henderson

I have a friend who recently found himself in the position of having to learn about football. For most guys, this isn't a problem. But Eric was never into sports, not even as a kid. A graphic designer who illustrates children's books, sports never entered into the equation of his adult life. Until Mason came along. By the age of 6, the kid knew more about football than either of his parents put together, and conversations around the breakfast table became uncomfortable.
"I didn't know who was in the play-offs, who played for who, or how fast so-and-so had just run the 40. And I didn't care. But it became clear that if I wanted to have a conversation with my son, I would have to learn. Part of being a good parent means learning how to care about what your kid cares about."
This is true for any relationship important to you. There is the scene in the John Travolta movie, Phenomenon, when the Travolta character buys a hand-bent willow chair made by the woman he loves. Later on in the movie, when it becomes clear he has bought dozens of them over the course of the summer, he explains,
"Every woman has her chairs. The thing that is important to her. The thing that gives her life meaning. You want the key to a woman's heart? Find out what her chairs are, and then find a way to support that."
Andy's dad ran a music store and didn't have an athletic bone in his body. But he sponsored his son's team. Had the shirts made and printed up, cheered loudly from the stands, and ordered the pizzas for the after-game parties.
"Learning how to recognize what is important to another person,
and then showing up regularly to ask them about it,
is one definition of love you don't hear talked about very often.
But it's really the key to any good relationship."
As much as we'd like to wish otherwise, we teach others by what we do, not by what we say. I first learned about investing in relationships from my own father. He ran a business full time, but from the time I was 5 until the time I was 12, my dad coached my football team. This is how I remember him best: wearing his coaching shorts and the baseball cap with the extra-long bill. He taught me about earned respect, both as a team member and as a member of society.
My dad used to tell me …
"Just because you're here and breathing doesn't mean the world owes you anything!
You've got to earn it!"
I came to understand early on that you have to invest in relationships in order to gain trust, and that this is achieved not all at once, but by a series of small deposits made over time, the way you build anything of real value.
And the best part about cultivating meaningful relationships is this:
Everything you give to others only comes back to you.

That's right – good, bad, inspired or ugly, every kindness is multiplied, every neglect compounded.
This is especially obvious when it comes to our children. The famous hit song from 1974, Cat's in the Cradle by Harry Chapin, points to this when he writes about the father who never had time for his son.
It was based on the real life story of a politician and
the boy who kept hoping, always responding with …
"But we'll get together then, Dad. You know we'll have a good time then."
The then never came, and when the father finally got around to it,
his son was all grown up and it was he who had no time for the father.
"And as I hung up the phone, it occurred to me,
He'd grown up just like me.
My boy was just like me."
What kind of example are you setting for the relationships in your life? What are you giving to the people you care about? And what will be coming back? It's never too late to turn things around. It's never too late to find out what's important to the people who are important to you.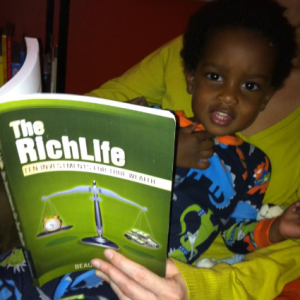 Jude and His Mommy Reading RichLife Bedtime Stories!!
What A GREAT Investment!
What one thing can you do TODAY to make a RichLife Relationship Deposit that will pay BIG dividends for years to come?

I want to hear all about it in the comments below!
The best story will get featured NEXT Thursday in our newsletter!!

Take a minute to stop by our Facebook Page and say "Hi" right on the wall!!

Seeing YOUR face and reading YOUR RichLife comments makes my day!