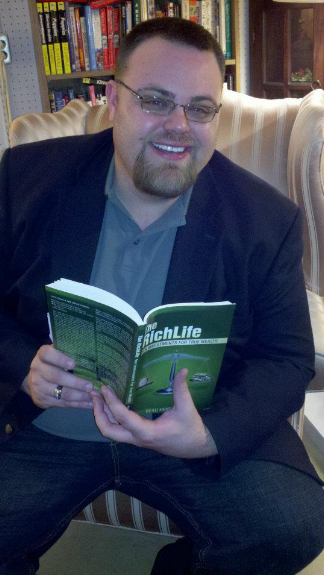 Beau Henderson ~ RichLife Advisors
"My role as a financial advisor and success coach is to help people transform their thinking and results around all things having to do with money and living rich so they can experience greater personal, professional, and economic confidence now and in the future."
For anyone grappling with the current state of their finances or nervously stalking their 401Ks and portfolios, Beau Henderson's approach to financial planning comes as a breath of fresh air.
"It is my goal to help people move toward the definition of a fulfilled life or a rich life. I want it to be, I want you to sit around the couch and be happy with your family. I want you to have $2 million in the bank, too, don't get me wrong," he laughs, "but too many times I think people are putting a cookie cutter on what they think should make you happy."
As CEO and founder of RichLife Advisors, a full-service financial planning and coaching agency, Henderson offers more than 13 years of successful financial experience on retirement income planning alongside a refreshing, authentic approach to securing not just financial wealth, but spiritual, physical, and emotional health, too.
Henderson believes that too often, people fall into the trap of "buying what the world is selling." His preferred method and philosophy — that having financial success doesn't necessarily equate to life fulfillment — not only goes against his industry's norm, but society's as a whole.
And despite an industry average of 90% fail rate for financial advisors, Henderson has doubled his business twice in three years and secured more than 3,000 clients in the last 10 years.
He started in the financial planning industry in 2000 after his dad passed away. His father, who had coached Henderson's football teams throughout his entire childhood, had also served as his life coach.
"I was always a big kid so football was always something I did. My dad was my coach and a lot of my great memories are with him. That didn't cost him anything but his time, but that is the most valuable memories I have," Henderson says.
When his father passed away, he was left to help his mom tie up his father's business finances and realized that it was not just something he was good at, but something he could do to truly help people.
"If there's not people to help them there's a lot of people that take advantage of them," Henderson says.
He's always been one to help others, he says.
"My mom still teases me saying that in kindergarten a couple kids in my class maybe were kind of outcasts, and I took care of them, stuck up for them," he laughs. "I've always liked helping people."
Helped them he did. For the first years of his career, Henderson worked his way up the proverbial ladder of success— securing a steady stream of clients, growing their portfolios alongside his own, and accumulating a wealth of knowledge and well, wealth. But he found the air at the top of his climb was starting to thin and he began questioning what having a "rich life" really meant.
"I was successful by financial standards and as far as averages in the business but like I was saying I was very unfulfilled," Henderson says. "Seven to eight years in it, I was seeing a lot of goals and people that I wasn't having a connection with them."
It started to change for him one day when he got what most advisors would consider a big break: a referral for a man whose net worth was just shy of $20 million.
"As I drove to that meeting, I was imagining what he would be like, this man who by most people's standards had truly 'made it.' But when I met him, I was stunned. The man who sat with me—this person who had achieved every single financial goal he'd ever set for himself— was not only miserable, but also unhealthy," Henderson says.



"In that first meeting, he told me that his health was failing and his single-minded pursuit of money had alienated every member of his family. The people who were supposed to surround him in his aging years don't even speak to him today. He had spent his life chasing what he—and a lot of other people—believed to be the most important goal. But there he was, wealthy beyond his every need, and his life was missing everything that might matter, everything that might actually bring him joy."
A few weeks later, Henderson met with another client who had come to him the same way–by referral – but was vastly different.
His name was Mark and instead of accumulating a huge fortune, he and his family had survived on a typical middle-class income. He wanted Henderson's help planning his retirement income — something manageable; something modest.
When Henderson showed up at his house, he was overwhelmed by the differences between the two clients. Mark's home was filled with family, laughter, and the memories shared by Mark's adult children and grandchildren told to him over dinner.
"When he walked me to the door later that evening, Mark asked, 'So, do you think you can help us out?' Of course I said yes, but inside I was thinking, You've got your answers figured out. My help will be the easy part," Henderson says.
He says he drove home that night wondering how two people could be so different. On one side he had a client who had accumulated an enormous wealth which by societal standards should have ensured him a happy, comfortable life. Yet this man was anything but happy.
On the other side, Mark was hoping to scrape together just enough income to cover the basics when he was finally able to retire and yet in Henderson's words, "lived like a man with his every wish fulfilled."
For Henderson, that's when the switch flipped, he says. He not only wanted the true rich life for his clients, he wanted it for himself.
He began changing the way he conducted business with clients; approaching the financial aspect from a philosophical perspective. From the first time he met a client, his first question was now, "What are the three things in your life that truly give it meaning?"
He realized that not a lot of people knew the answers off the top of their heads and he decided his new job was to help his clients gain clarity, and use his skill set to best utilize their assets and resources to move toward their unique definition of a Rich Life.
"When I started approaching my work that way, I began to realize I was doing more than serving clients. I was definitely serving them, but I also became friends with these people, a trusted friend. And suddenly I had a RichLife too," Henderson says. "I mean, how much better is it to have a job where you're taking care of people as opposed to being the person who simply minds their mutual funds?"
The response has been overwhelming. RichLife Advisors has attracted clients from Atlanta to California, and it's not just clients clamoring to be on board. Henderson's unconventional approach to finances has built him a team of some of America's top executives.
"There's something more to this. They might be making great money but it's that fulfilling piece. I put out the message and the mission, and the people who resonate with the idea of choosing to live a Rich Life on purpose show up," he says.
RichLife Advisors offers multiple programs to help their clients realize their financial and life goals including: Foundations for Financial Freedom, Conversations Every Couple Should Have About Money, and How to Teach Your Kids About Money. He even has a special program on God and Money and how the two go hand in hand.
From traveling to meet clients and training RichLife coaches to teaching six-week classes at churches and running a weekly radio show on Saturdays called The RichLife Show (streamed via www.RichLifeShow.com), his schedule is as filled as his life.
"I meet with clients Wednesdays and Fridays. I coach on Tuesdays and Thursdays. Prep day is on Monday. I had to get that specific to work. And then the radio show on Saturday and I go to church and try to sleep on Sunday," Henderson laughs.
But he's not stopping there.
"I want to write more books. I want to continue to grow the radio show's national audience. I plan to continue growing RichLife Financial Advisors throughout the US. I feel like I was charged to manage this mission and my job is to help people live that healthy, wealthy, fulfilled life on purpose," Henderson says.
He's releasing a new book Fall 2012 called The RichLife 2012 Retirement Guide, but the public can download the first chapter of his best-selling book, The RichLife: Ten Investments for True Wealth on the website from www.RichLifeAdvisors.com.
To listen to The RichLife Show and interact with Beau, people can visit www.RichLifeShow.com where a live stream of the weekly radio broadcast of The RichLife Show is available Saturdays at 1 p.m. EST.
Between his authentic approach, fresh philosophy and his experience working with over 3,000 clients, Henderson is finding success on a whole other level—for his clients, his employees and himself.
"It's the piece of seeing people move towards their goals and objectives that to me is very rewarding," he says. "I want to leave a legacy where I've felt that people live a healthy, wealthy, fulfilled life on purpose; that some people's lives are better because I shared our mission and lived my personal definition of a rich life."