100 Day Debt Free Challenge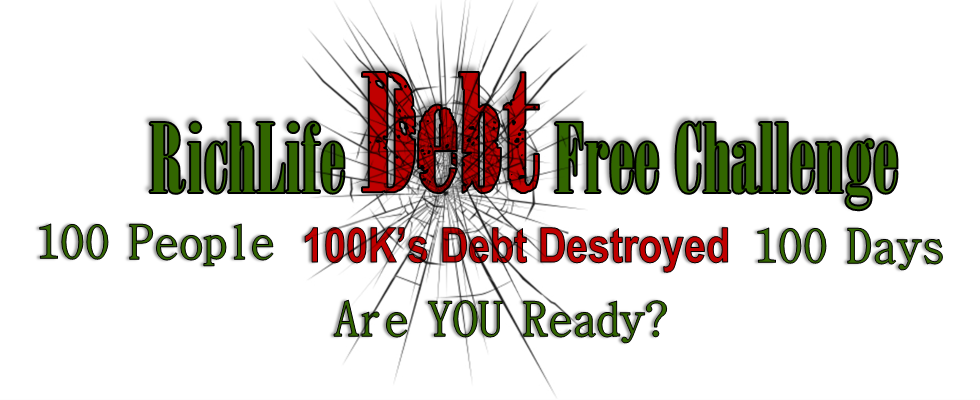 "RichLife Advisors Throws Down The Financial Guantlet



With Its Debt Free Challenge:

Do You Accept?"
Are you striving to achieve a debt free life but find it's been tough to gain momentum and sustain your motivation? Are you struggling to put together a personalized "get out of debt plan" for you and your family, but simply aren't sure where to begin? Do you wish there was a clear cut path on how to achieve debt freedom that was not only financially empowering but was actually fun and could potentially put some much needed cash into your pocket? Sounds like you're ready for RichLife Advisors new Debt Free Challenge!
Beau Henderson Of RichLife Advisors Outlines His Latest Debt Free Challenge
Beau Henderson, CEO of RichLife Advisors, has one primary business purpose; to help everyday individuals stop financially sleepwalking through life and finally take charge of their own debt freedom. His Debt Free Challenge has made it easier than ever for people to destroy their debts and start enjoying their own personal definition of the "rich life." Beau challenges you to:
Register NOW to quickly learn how to get debt free and win cold hard cash and other prizes to help you live rich!
The Challenge Is Simple:

100 Days

100 People 

$100K's of Debt Destroyed!!!
The first 100 guests that register for The Debt Free Challenge will receive:
Necessary tools to help you get started


Assigned tasks to help keep you focused and motivated


Videos to reinforce your get out of debt plan


Email/community support and encouragement


Exclusive access to Beau in a private Facebook group


Ongoing debt destruction CELEBRATION
Participants in The Debt Free Challenge are eligible to win:
$1000 Cash and Creating Your RichLife VIP Day with Beau Henderson ($2,500 – Grand Prize)

$500 Cash Prize (1 winner)
$250 Cash Prize (1 winner)
RichLife Foundations Online Master Class ($599 – 10 Winners)
RichLife QuickStart Bonus Pack ($79 – 20 Winners)
The RichLife – Ten Investments For True Wealth and 30 days in RichLife Foundations Online Master Class  ($67.95 – 50 winners)

Moving From a Life of Debt To Financial Freedom (100 Winners – $$$$$$ PRICELESS)
Read What Others Say About Beau's Ability To Help Others
Create A Viable Get Out Of Debt Plan
Still not convinced? Don't take our word for it! Read on to see why other formerly financially restricted individuals are raving about Beau Henderson's methodologies:
"Beau Henderson is really changing the game of wealth, making us look at what living a Rich Life really means. His wealth building concepts are simple, effective, profound, easy to implement and customized to YOU…If you want to live a truly fulfilled like, do yourself a favor and listen to Beau."

Sean Smith, CEO MVP Success Systems
"My words for you today are to pay attention to Beau Henderson. Go after more than just money. Chase the Rich Life! Because you deserve it!"

Sandi Krakowski, CEO A Real Change Int'l, LLC

 
"Beau is every lay-person's dream! Finances are not something that people are typically experts in and because of who you are, you give us, the everyday ordinary person, someone to turn to for help and advice that we know is truly looking out for us. Such a rarity in the world of professionals! Thank you!"
"Beau has the ability to take concepts that are either muddy or complex to some people and turn them into perfect clarity!…Beau has hit that target with a bulls eye, especially the hardest one to earn: trust."
Best of all, RichLife Advisors' Debt Free Challenge is totally FREE! All you have to do is commit yourself to 100 days of debt destruction. With no money barrier to consider, how can you afford not to get started on your new, rich life?
Remember, registration closes after the first 100 participants sign up. It's already 50% full! Sign up today so you don't miss out on this amazing opportunity!
---
IMPORTANT UPDATE!!!
THIS CHALLENGE IS NOW CLOSED!